Office Tech's 'Cozy Toes Project'
"We believe that turning 'metal & plastic' office machines into 'warm & fuzzy' relationships is a great way to make a difference in the communities we serve."
-John Mytinger, President of Office Technologies, Inc.
Office Tech Inc.'s Cozy Toes Project is an extension of Office Tech's "Knock Your Socks Off" customer service commitment to their customers.
Every month a local non-profit, selected by an Office Tech staff member, will receive socks equaling the amount given by OTI for that month.

For example: if OTI gives 100 pairs of socks out to new or current customers, than OTI will donate 100 pairs of socks to a non-profit that focuses on the homeless, youth at risk or others in need in our community. For our first year (2017) over 1,000 pair of socks were delivered to 501c (3) recipients in Jackson and Josephine Counties. 2018, it was over 2,500 pairs of socks that were distributed in the community and this year for 2019, the first annual "Socks from Santa" promotion will collect socks for the students at Logos Public Charter School.
If you would like to nominate an organization to be a Cozy Toes participant please click here>>
About Office Technologies Inc.
Office Technologies Inc., (OTI)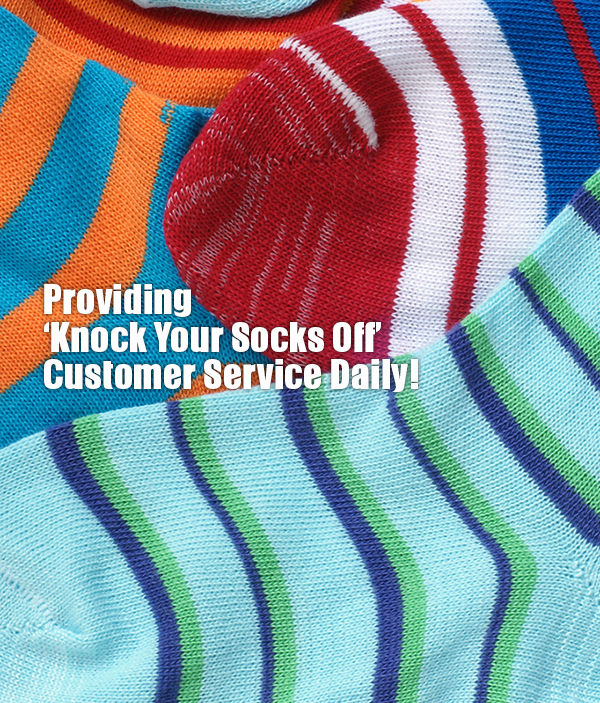 is an office equipment business located in Medford, Oregon.  In an effort to turn a 'metal & plastic' copier business into a community focused organization, the OTI leadership team developed a unique customer service model we call our "Knock Your Socks Off!" (KYSO) client experience. The goal is simple – to provide over the top, extraordinary, excessive customer service every single day. A place where customers are left in awe.
A few examples of OTI's KYSO service are:  
OTI support staff person will respond to your call within 60 minutes of initial contact.
OTI support staff person will be at your office within 4 hours of your initial call.
OTI is owned locally and knows how important it is to keep your office equipment working, therefore all supplies such as toner cartridges and our full compliment of parts are kept in stock and on-site in Medford at our local warehouse. This allows us to shorten delivery times and provides the least amount of down time for your business.
Knock Your Socks Off! is not just a marketing slogan, "knocking your socks off" is the foundation of the Office Tech organization. One small example of our dedication is that OTI's product or service specialists will leave a pair of seasonal new socks at client or prospective client's office as a 'thank you' reminder of the KYSO commitment.
For additional information on Office Tech or the 'Cozy Toes Project' call: 541.773.2015 
Donate Online to the 'Cozy Toes' Project
If you would prefer to donate to the 'Cozy Toes Project we are currently accepting secure online donations through PayPal by using the "DONATE" button below.
All donations collected during the promotion will be used to provide socks for those in need in Southern Oregon.
Awesome Concept

"What a great way to give back AND make it fun for your business. Proud to know the OTI team."

So fun!

"I've always heard the phrase, "Knock Your Socks Off" customer service but it sounds like you really took it to a new level. Good for you guys."

Thank, thank, thank you!!

"Super excited to be a recipient of this inspiring and creative community project by Office Tech. John and his team continually surprise me with their great attitudes and amazing service. I love getting socks when they visit — makes my day!"
The short answer is YES!
It would be wonderful to have everyone with warm feet in Southern Oregon.  For additional information email: cozytoes@officetechinc.com
Have a question that isn't listed above?