"Socks from Santa" for Community Youth!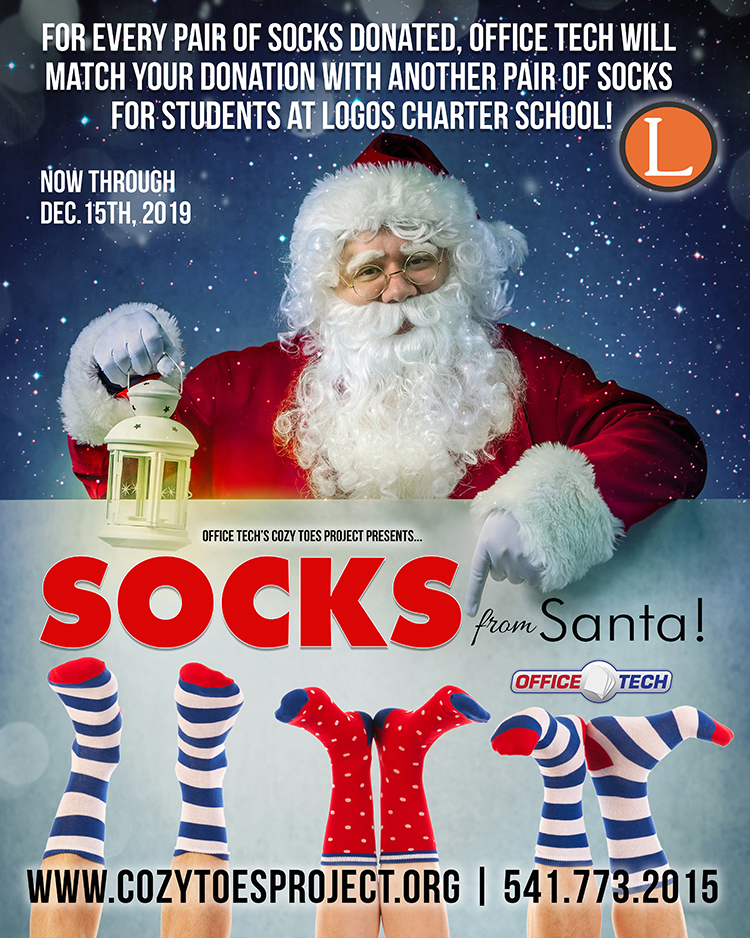 Office Tech's first annual Cozy Toes Project's 'Socks from Santa' community promotion benefiting the children at  Logos Public Charter School. 
Together, with community partners such as the Rogue Valley Mall,  GoodBean Coffee, and Mortgage Express   we will be accepting sock donations from November 20th until December 15th.  For every pair of socks donated by the community, Office Tech will match that donation for the students at Logos Public Charter School. Our goal is 1,000 pairs of socks for children Kindergarten through 12th grade.
We've made it easy….just look for the bright red "Socks from Santa" bins with the Santa artwork at the locations listed here and drop in a pair of socks today!
DROP OFF LOCATIONS INCLUDE:
GoodBean Cafe | 3240 Hillcrest Park Dr. in Medford
GoodBean Coffee | 165 S. Oregon St., in Jacksonville
Rogue Valley Mall – 8 locations both upstairs and downstairs by JC Penny, Kohls, and near Santa!
Mortgage Express | 3262 Hillcrest Park Dr., Medford
LOGOS Public Charter School | 1023 N Ross Lane., Medford, OR 97501
Office Technologies Inc. | 1912 United Way., Medford, OR 97504
Students will receive the socks, delivered by Santa, at their annual holiday school parties on December 18th and 19th.
If you would prefer to donate to the 'Socks from Santa' cause please feel free to donate to through our secure pay pal portal by clicking the yellow button below or at the top of this page.
Happy Holidays from all of us at Office Tech
and on behalf of the 'Cozy Toes Project'!
For additional information contact Terri at: 541.773.2015
Donate Online:
If you would prefer to donate online from your PC or mobile device to the "Socks from Santa" promotion by the Cozy Toes Project. We are currently accepting secure online donations through PayPal by using the "DONATE" button below.
All donations collected during the promotion will be used to purchase socks and benefit the children at Logos Public Charter School.
Awesome Concept

"What a great way to give back AND make it fun for your business. Proud to know the OTI team."

So fun!

"I've always heard the phrase, "Knock Your Socks Off" customer service but it sounds like you really took it to a new level. Good for you guys."

Thank, thank, thank you!!

"Super excited to be a recipient of this inspiring and creative community project by Office Tech. John and his team continually surprise me with their great attitudes and amazing service. I love getting socks when they visit — makes my day!"
The short answer is YES!
It would be wonderful to have everyone with warm feet in Southern Oregon.  For additional information email: cozytoes@officetechinc.com
Have a question that isn't listed above?